Making dynamic communications a reality at smaller organizations
Streamlined Availability
With the UNIVERGE SV9100, smaller companies with 10 to 896 potential users gain access to NEC's cost effective, highly reliable and feature-rich communications platform. The SV9100 provides the flexibility and functionality required to fully support today's hybrid work model and a business's growth.
A Custom Fit
By using SV9100, NEC can tailor communications specific to an organization's brand, industry, changing business environment and for custom-built environments where employees acquire adaptive tools and services that make getting their job done easier.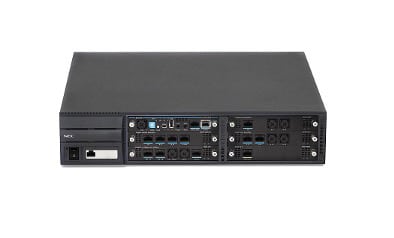 The SV9100 offers
One of the easiest unified-communications-capable systems on the market.
Simple integration into existing IT infrastructure.
The ability to operate as an analogue, digital or IP system and can be cloud-enabled for UC.
Easy to use cloud-based desktop and mobility apps with integrated video conferencing, team chat, secure file sync/share/backup and inbound and outbound calling from wherever.
A variety of compatible desktop, handset and mobile devices for a fully equipped workforce.
Cloud-based multi-channel contact center for the exceptional customer experience.
Administrative and cost management tools for the insight the organization requires.
Simplified user licensing for ease of use and budgeting.
A trusted partner who can fully support dynamic communications and collaboration.
The SV9100 With UNIVERGE BLUE® CONNECT BRIDGE
When combined with UNIVERGE BLUE CONNECT BRIDGE, the SV9100 can be extended to the cloud for powerful unified communications tools that keep employees connected, engaged and productive and able to take care of customers and moving business forward regardless of location … whether in the office, at home or anywhere in between.
UNIVERGE BLUE CONNECT BRIDGE's integration with the SV9100 enables cloud-based voice via desktop and mobile apps and provides real-time audio and video conferencing, team chat and file sharing, syncing and backup for an all-in-one communications experience from any location … bridging the best of both worlds together.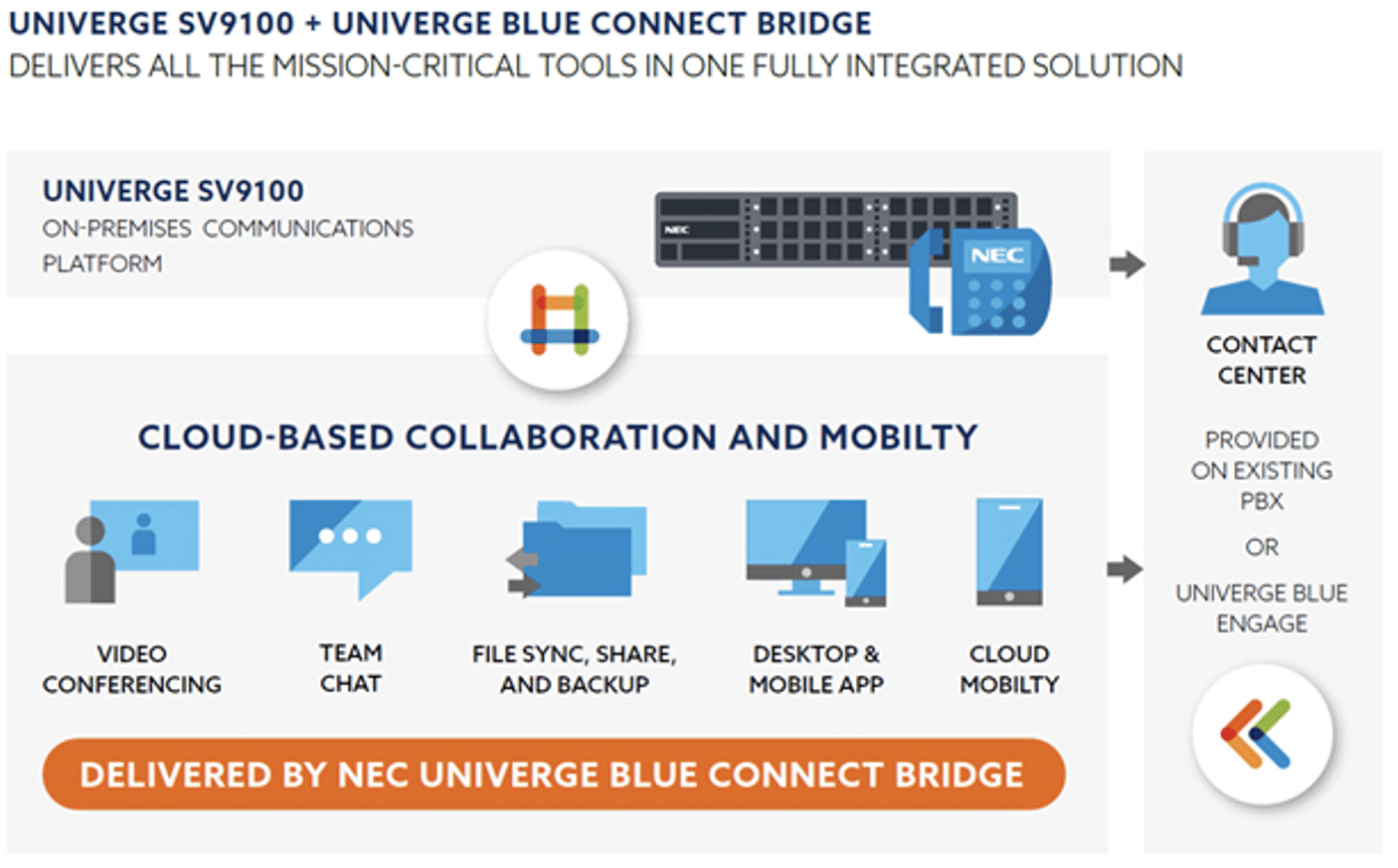 Increased Efficiency for Hospitality
NEC's built-in property management system, InHotel, increases staff productivity, enhances on-premises experiences, and lowers costs by making tasks such as booking, billing and admin functions easier.
With InHotel, the systems and information essential to running a hotel become simpler to access, understand and act on.
Secure Assurance
Compatible with the UNIVERGE SV9100 communications platform, NEC's InGuard software solution works to safeguard company communications networks, conference lines and devices.
Unauthorized or inappropriate use becomes easier to identify and correct with active around-the-clock monitoring of call activity.